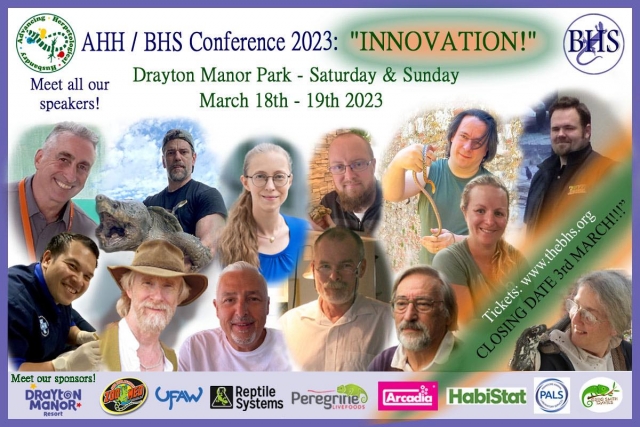 Delighted that the 2023 Drayton Manor conference on reptile husbandry and breeding was another very successful, now truly international event - with speakers from Europe, the US and even Australia plus delegates from UK, Europe and the US this major annual conference just keeps growing in scope and size. 130 + people were in the conference both days and more than 90 people enjoyed the Saturday evening dinner.
This year - for the first time - we had the benefit of an entire conference facility at the park , with three separate but linked spaces . This worked really well and we plan to continue in the same facility in future - it's already booked for 2024!
We hope to produce a full report on the conference in due course; in addition the talks were all recorded and the edited content will be uploaded to the BHS website in coming weeks and months.
Plenty of pictures and short videos available on both the BHS and AHH Facebook pages - BHS FB , AHH FB
Huge thanks to Drayton Manor Resort and all our sponsors for enabling the event. The 2024 conference is set for the weekend of March 16th and 17th - put it in your diary now!