AHH / BHS Conference 2022
Saturday, 12 March 2022 - Sunday, 13 March 2022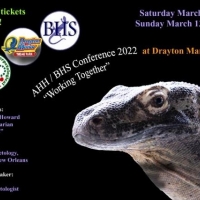 After a two year lay-off, we're delighted to be once again planning a herpetological husbandry focused conference in 2022 at our normal venue of Drayton Manor Resort Hotel.
Booking now open! We have a great conference program including speakers from the US and Europe - see full program details below:
The booking charge includes refreshments and a light lunch for each day. Please note that the Park will not be open during the conference as it's taking place in their closed season - but guided tours of the reptile areas within the zoo will be available after conference end on Saturday for delegates.
NOTE: In event of conference cancellation due to Covid restrictions, delegates will receive a full refund, but of course we hope to avoid cancelling.
BHS MEMBERS!
BHS members with an active subscription can get a discount off the normal ticket price
To book tickets with the BHS member discount, you'll need to be logged in to the website - you'll then see the discount ticket options. Anyone not logged in will only see the normal, full price ticket options. In event of any difficulties booking, please contact
STUDENTS !
AHH/BHS Student Research Poster Showcase 2022
The event is running over 2 days (Saturday 12th and Sunday 13th March 2022) at the Drayton Manor Hotel where we invite students to submit their research posters for showcase. These will be displayed at the conference for the duration to enable delegates to read, ask questions and enable students to network. This is a great opportunity to showcase your work to the herpetological community including industry professionals from zoos, researchers and academics from around the globe. Every research student who brings a poster will be offered a reduced-price ticket for the event to assist in attending.
To enter, just download the guidance and 'Student Research Poster Submission Form' for more details on format and sending a digital copy of your poster for registration. In addition, please book tickets through the www.thebhs.org website and the discount will be refunded on attending the event with your poster for display.
We look forward to seeing your research work!
| | |
| --- | --- |
| Event Date | 12-03-2022 |
| Event End Date | 13-03-2022 |
| Cut off date | Monday 7th March 2022 11:00 pm |
| Location | Drayton Manor Park Hotel |
Ticket Information
Ticket Type
Price
Saturday
£30.00
Sunday
£30.00
Saturday & Sunday
£55.00
Saturday Evening Dinner

The Saturday evening dinner is back on the program for 2022 - a great opportunity to enjoy networking and socialising with herptile experts from both the private and professional arenas!

£25.00